Filed Under Dating Coaching, Letters From Readers, Men Attracting Women, Relationship Management, Seduction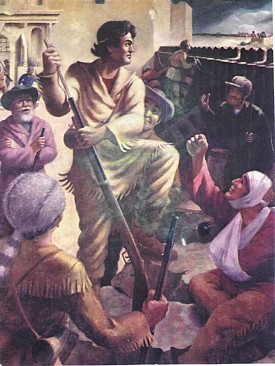 I recently got a call from a guy who couldn't wait to share his latest success story with me. Suddenly, his new girlfriend was more adoring and affectionate than ever, which boosted his confidence to new heights and thrilled him to no end. What's more, even the woman's mother was now completely won over, telling him that she had thought such wonderful men didn't exist anymore.
So what had triggered this bonanza of euphoria all around him?
He had hand-written his girlfriend a love letter.
He described it as a simple one, one page front and back. In it, he expressed how magical his time spent with her had been thus far and talked about a future full of exciting travels and boundless adventure together.
After sharing the details with me, he paused briefly before suggesting in a quieter, almost reverent tone that he had stumbled upon something really big here. In his words, "a type of wild card to solidify a relationship, or maybe a way to help a guy get the girl he's been dating for a while to fall in love."


He's 100% right about all of that, naturally. Yet, the irony of an art as ancient as the written word itself somehow being discovered anew in the present day wasn't lost on me.
Real, face-to-face conversation was long ago effectively replaced by the telephone, of course. But nowadays e-mail and text messaging have all but rendered pen and paper laughably obsolete in the minds of most.
Meanwhile, much has been said about the rise of social media and its deleterious effect on how people relate to each other in the real world nowadays. In an age where commenting on a "friend's" Facebook post psychologically registers as tantamount to a personal visit, communication has become cheap.
It's as if genuine relationship has given way at the baseline level to "checking in" or "circling back". Even "hooking up" implies that physical, in-person contact is only happening out of sheer necessity.
Add it all up and it's no wonder men and women have such a hard time genuinely connecting nowadays. Predictably, tutorials for frustrated single men on how to use text, e-mail and social media to attract women abound. E-books on how to text a spark back into a flagging relationship are everywhere.
But none of them ever even think to suggest the idea of writing a woman a real, actual, pen-and-ink love letter.
Like the power of a hand-written invitation or thank you note, an old-fashioned love letter captivates a woman's attention and touches her heart in a unique, almost supernatural way. The part that both surprises and amazes me is that it's always been that way, even before electronic media ostensibly took over.
My sixth-great grandfather was named Micajah Autry. Back in the 1830s he left Tennessee–and the woman he so dearly loved–to seek a better life for his family out west. Before long he joined Davy Crockett's posse and eventually wound up in Texas. In 1836 he was one of the more celebrated defenders of the Alamo, considered perhaps the best marksmen of the lot. Today he's counted among the great heroes in Texas history.
In other words, he was sort of a badass. Enough so that my son, who was born in San Antonio, is named Micajah.
As soon as Junior was old enough to remember the experience, I took him to the very Alamo that his namesake fought and died at. After entering, removing our hats as directed and marveling at the history all around us, we mentioned to the lady behind the counter that we were Autry descendants.
In response, she made no mention of his adventures with Davy Crockett, his shooting skills or anything of the like. Instead, she tilted her head, joy filled her eyes and an unmistakable aura of warmth washed over her countenance.
"Oh…he's known for having written the most wonderful love letters to his wife, Martha."
In this red-blooded woman's estimation, therein was found Micajah Autry's greatest heroism, and perhaps even true genius. This despite longhand letters having been the only communication option back in his day. Apparently, even then few if any of his contemporaries had the wherewithal to write so profoundly, assuming they loved as deeply.
That very evening, curiosity got the best of me. A mere five minutes of Internet research delivered the following gem, written by Micajah Autry to the love of his life, who he would tragically never see again:

"Night before last [I stood] two hours during which the moon rose in all her mildness but splendor and majesty. With what pleasure did I contemplate that lovely orb chiefly because I recollected how often I had taken pleasure in standing in the door and contemplating her together. Indeed I imagined that you might be looking at her at the same time."
Despite the fact that nobody really talks like that anymore, I felt great pride reading my ancestor's eloquent words. I could only imagine how such a poetic expression of such deep connection had melted Martha's heart upon reading it.
Now, as many of us have figured out the hard way, it's creepy to write mushy, drawn-out handwritten missives to women we barely know–let alone if they're not exactly attracted to us yet.
But the undeniable proof is there. If you've successfully charmed a woman into being crazy about you, there's no better plan than to go "old school". Pick up a pen and write her a real, genuine love letter.
What do you think? Am I on to something here, or am I fighting a losing battle living in the past? Is texting and social media really the way to go from now on?
Be Good,
Scot McKay
P.S. Even if you write her the most emotionally gripping, heart-felt love letter ever, you still have to know what to say to her on the phone too. Get my free report on what to do if you get her voicemail here.

Comments