Filed Under Men Attracting Women, Men's Issues, Pickup, Seduction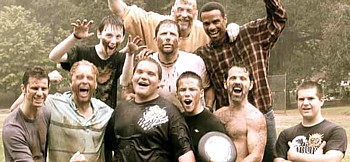 What's truly bizarre to me is guys who have been working on getting better with women for less than, say, five years (therefore, the vast majority) have probably never even heard of The Seduction Community.
Essentially, it's a lot like how my sixteen year-old daughter has no idea who Sam Kinison is.
So for the sake of clarity, what was The Seduction Community?


Well, you can trace its beginnings all the way back to the 70s, but ultimately we're talking about "the underground society of pickup artists" that Neil Strauss talked about in his book The Game.
These guys would meet in chatrooms and newsgroups back in the Stone Age of the Internet and talk about how to meet and seduce women.
Then, if they lived in a big enough metro area, they'd form "lairs" and meet together in person.
Although most of these guys were famously all talk and little action, some inevitably rose to the top of the food chain. The best of the best became legendary in the "Community". Many built thriving businesses from their underground fame.
It was a huge deal for years. But nobody today will argue the fact that it's dead.
Curiously, The Seduction Community didn't exactly die off in one dramatic, deathly blow, a la the last scene of a Shakespearean tragedy.
What's more, it's gone out with a whimper, not a bang (irony intended).
Most of us who are insiders in the men's dating advice industry know that nearly everyone who was an "MPUA" (master pick-up artist) ten years ago is married with children by now. Some are quiet about it, while others have re-branded and changed their message accordingly. But either way, had they and their constituents a crystal ball back in the day, they'd have been collectively appalled.
Meanwhile, back in May one of the biggest, most legendary pickup companies was sold off, the owner claiming to have "lost his edge". Immediately afterward, it was announced that all of their bootcamp teachers would lose their anonymous "handles" and go by their real names going forward. I brought this up in a mastermind of my peers a few days ago, and nobody had even heard about it.
For my part, I've never identified directly with The Seduction Community, although I (weirdly) always coexisted peacefully with it. Hell, I'm not a "get laid quick" pickup artist, I'm a "be a better man and find your dream woman" dating and relationship coach.
So for me, at least, this has all been a breath of fresh air over the past few years. I haven't had to awkwardly correct interviewers who introduce me as a pickup artist in ages. Eight years ago that was a constant.
And come to think of it, I haven't received a friend request on Facebook from YourNameHerePUA in…forever.
So what killed The Seduction Community, exactly?
Well, by about 2008 every woman had already been asked "Who lies more?" so many times that she Googled it.
Social media came along, making it tough to remain social while keeping PUA antics anonymous. As a by product, online forums became dinosaurs like chatrooms and newsgroups (alt.seduction.huh?) before them.
Then the rash of "street harassment" videos brought the word "rapey" into the mainstream.
Boom…mic drop. In the year 2016, more guys than ever before realize it's not cool to "trick" women into having sex with them. Meanwhile, even more men realize–perhaps through trial and error–that it seldom worked on women to begin with. If on the odd chance they weren't wise to it in 2004, they certainly are now.
Now obviously, I've been talking about how character and virtuous masculinity attract high quality women for over a decade. Nowadays, others have caught on and joined that chorus, frankly.
But that isn't the point of this post.
After all, weird, bad advice from the Seduction Community era still persists out there, blindly handed down from copycat to cub copywriters. (e.g. the three second rule, kino escalation, bad boy vs. nice guy, never compliment a woman, misguided "negging", etc.)
We as men are still interested in getting better with women, and we always will be.
So there's still dating advice. There are still books, audios, coaching programs and the like, of course.
This isn't about the advice itself, good or bad. The real point is that there's still seduction, just no community surrounding it.
For all its flaws, the Seduction Community gave men who were trying to get better with women a place they felt they belonged.
Despite the problematic trappings of the PUA mindset relative to respecting women, etc., that connection between dudes was really cool.
Everyone involved felt they were part of something bigger.
Nowadays, if you're trying to get better with women, you might feel like a Lone Ranger.
That's because since the Seduction Community died out so slowly over time, nobody ever replaced it with the next-gen version.
Sure, you've got the "Manosphere" and "#MGTOW". But I'm not talking about men who've "gone their own way", dismissing women in anger and frustration.
I'm wondering aloud how to rebuild a community of guys who still want to get better with women.
Don't we all want and deserve that?
I mean, for years the attempt has been made to brainwash men into believing that our masculinity is a bad thing…yet none of the perpetrators offered a reasonable alternative.
So is it mere coincidence that the "Community" was disbanded for being a bad thing, yet nothing better was raised to replace it?
I'm interested in helping to organize such a new community. But the question on the table is what would that look like?
My gut instinct is that most men in today's world aren't just sick of the idea of "tricking women", we're also no longer self-conscious about admitting it.
How about a community of guys who are all about demonstrating that we know how to be real men of character, know how to attract women the right way and—best of all—believe that the vocal "man haters" out there are a tiny minority?
Could it be that all of the sweet, feminine, sexy women who we're actually interested in would stand up and cheer if we formed that new community?
And imagine…you could boldly use your real name.
What do you think? Am I on to something here?
And are you in?
Or do you think I'm missing a piece or two?
I want to hear from everyone. I can't be a one man "community". So since you're invited to whatever comes of this, let me know what you think.
And ladies, if you're reading this chime in as well.
Be Good,
Scot McKay
P.S. The closest thing we've done around here to what I'm talking about in this post is this. Some great guys were a part of it. Maybe that could be an ongoing movement?
Comments