Filed Under Hilarious, Men's Issues, Sexuality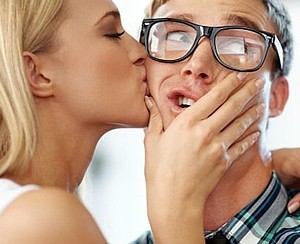 Knowing you've grown accustomed to mostly serious dating and relationship advice around here, I've been thinking it's time to take a break and look at the lighter side.
And what better way to take ourselves less seriously than to turn our attention to sex? More specifically, let's talk about the strange, crazy things that happen to us as guys after "doing the deed".
I've rattled off five such weird phenomena below, right off the top of my head. In doing so, I quickly realized that I've never heard any of these talked about publicly…ever. Yet, I'm 100% sure I can't possibly be alone in experiencing them.
So here we go… Gentlemen, can you relate to any or all of these, or am I some special sort of "basket case"?
And ladies…did you ever in your wildest dreams realize any of this was going on?


1) No Matter How Much You Shake And Dance, The Last Few Drops Go Down Your Pants
The above saying has long been applied to that uniquely male frustration that occurs after using a urinal. You may even have been tempted to name your unit "Louis Leaky".
But hold on a second. The same exact thing happens after you ejaculate, doesn't it? Only then it's particularly frustrating because there's a delayed reaction
I mean, you can perform the most immaculate "clean up operation" humanly possible. Go nuts (pun intended). But no thanks to how semen changes to a runnier consistency over a brief but uncertain period of time, there ALWAYS seems to be "run off".
For sure, it's going to find its way onto your pants if you've already gotten dressed. Bummer.

2) Two Streams
Okay, let's say you have an impromptu session of bleary-eyed morning sex, followed by a half-assed (again, pun intended) wipe down, invariably culminating in dozing off for another hour or so.
You summarily wake up, realize you have to pee, shuffle off to the John and let 'er rip.
But panic ensues when you realize that the "run off" as explained above in #1 has now dried and partially sealed off the end of your pipeline.
Whoops…your aim is true as ever, but your urine unexpectedly splits off into two separate directions. Invariably, neither direction is anywhere near the toilet bowl.
This, among other similar reasons, is why we don't have carpeted bathrooms. Let's just say that your "half-assed" cleanup operation from before has resulted in a much more complicated one later.

3) Muscle Strain
Okay, have you ever had that kind of good, hard, raucous lovemaking session that any man could be proud of, only to find out that "round two" becomes payback time?
It's really bizarre. You can attempt the comeback ten minutes later or like six hours later, and it's equally likely that your unit is going to feel like it has run a marathon.
We're talking serious muscle fatigue or even full-on muscle aches down there.
If you think about it, this makes perfect physiological sense. After all, it is your "love muscle".
But regardless, at that point you have two choices. You can literally massage your meat* back into game shape, or you can wait…whichever course of action motivates you more.
Maybe this is why the ED medications always warn of "erections lasting longer than four hours".
* Don't expect a program from Trace Loft anytime soon called "Massage Your Meat".

4) Other Biological Urges Kick In Shockingly Fast
When you're seriously horny, it practically consumes your imagination whole. Fair enough.
But wow…it's nothing short of amazing how fast your mind and body can switch gears once you've satisfied the urge.
I don't know about you, but I've actually been mid-climax and found my mind registering random thoughts like, "Damn…you know, I'm starving," or "Geez…I'm all of the sudden so tired I don't think I'm gonna remember hitting the pillow."
And no kidding, It happens so fast that it almost pisses you off. It's obvious you've "been had" by your biological needs.
Chalk it all up to what I've always said: Horniness is but a dirty trick to get us to procreate, right?

5) A Twisted Version Of "Buyer's Remorse"
I've saved the most horrendous example for last, no doubt.
And yes, it's another case of how our urges betray us.
Basically, not only can lower-level physical urges like hunger or need for sleep kick in after sex, as described above, unfortunately so can LOGIC.
When this happens, it rears its head almost immediately after orgasm, typically in the form of: "OMG…how could I do that without birth control?", or "Wait…we forgot to have the STD talk", or "Hold on…is she going to think we're boyfriend/girlfriend now?", or perhaps even more bluntly in the form of, "What the hell have I done here?"
Having suddenly removed the blinders deployed by sexual opportunity and raw horniness, the details that seemed trivial a mere ten minutes ago suddenly leap out of the bushes.
Brutal.

Okay, so there you have it. Have you ever experienced any of these? What are your craziest and/or funniest stories?
More importantly, is there any weirdness that I've either forgotten about or have never had the dubious pleasure to partake of? I'd love to hear what you have to add to this (admittedly warped) discussion.
Be Good,
Scot McKay
P.S. What if you never had to worry about any other "sex issues" ever again? Here's my best program on bedroom mastery.
Comments