Filed Under Cool Stuff, Life, Newsletter Follow-Up

It's already an established fact that I have this thing for Asian flight attendants. And it's not even like I prefer Asian women in particular. It's just that the flight attendants over there tend to be more feminine, more graceful and—best of all—almost obsequious in their pleasure to serve. It all makes for a more enjoyable 14-hour flight.
Oh, and if you really hit the jackpot, they dress in seriously exotic uniforms that no Western flight attendant would be caught dead wearing in public, like this: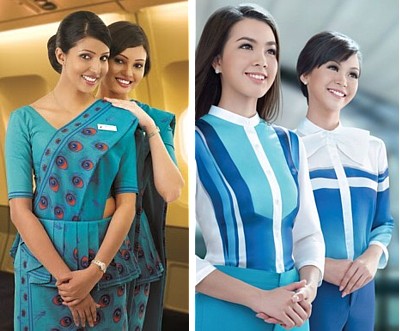 Women in Asia aren't afraid to be, well, female. That, combined with the tantalizing cultural differences between East and West, ensure that we as male visitors are treated to frequent surprises of the best possible kind.
Once you step off of the airplane, you just might find women where you never think they'd be, dripping in feminine charm at a time and place far-flung from where you'd expect to find it.


This is not only surprising, it's downright intriguing—capturing one's imagination in the exact same way a woman in, say, a naughty nurse uniform or a French maid outfit would.
Except, darn it…it's not even like THAT, exactly. It's different. In a way it's more innocent. And it's somehow uniquely ASIAN. As the owner and operator of a Western psyche, one can't really put a finger on it.
But it's THERE, whatever it is. And it's one of those phenomena that's far better shown in pictures than told in words.
So today, in a spirit of pure fun, I'm going to let you in on two primo examples.
By now, I trust you're not expecting Geishas or Thai prostitutes from a guy like me.
Nope, everybody knows about them already, anyway. This is more off the beaten path in terms of Western imagination.
The pictures that follow are from Japan and, of all places, North Korea.
Back in May we went to both countries. If you want to go to North Korea, you've got to join a tour. Our guide, who happened to be Irish, casually mentioned that "Traffic Girls" were perhaps his favorite part of visiting the DPRK.
My edumckayted guess is that this is not how you picture North Korea in your mind's eye: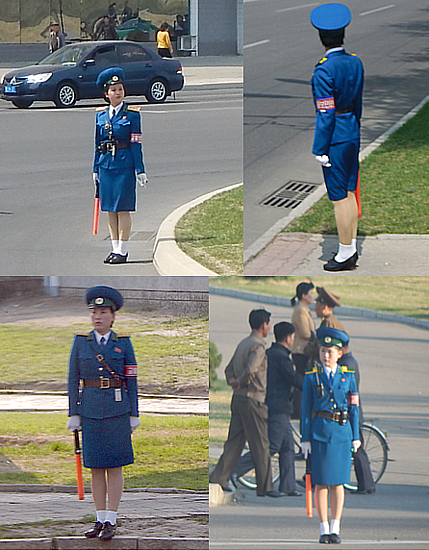 For what it's worth, those pictures were HARD to get. I'm pretty sure the government instructs Traffic Girls to look the other way whenever a tour bus passes.
They're starting to install more and more traffic signals at intersections in Pyongyang, so this iconic DPRK tradition–already an anachronism–may soon become a thing of the past altogether.
Yet for now, the Traffic Girls remain, standing at attention in their trademark teal and white outfits and endearing us with their oddly playful "military" moves even as they direct traffic with their batons.
Granted, women on street corners have been distracting drivers for decades worldwide.
But on purpose…by government mandate?
Do they even realize they're dressed like schoolgirls from some mysterious all-female military academy?
Meanwhile, the Japanese, never to be outdone by their neighbors on the Korean Peninsula, have a surprise of their own.
You may already know that Japan is even crazier about baseball than we Americans are. That's cool enough in and of itself. But man, I have to hand it to them. How come it never occurred to us to do away with loud, scruffy beer men in the stands exchange for THIS?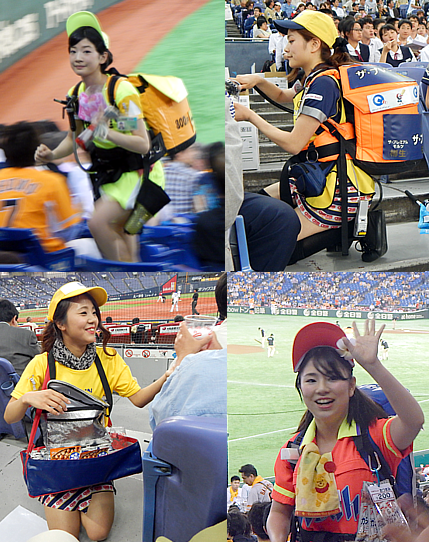 Yeah, I threw in a girl selling snacks just for good measure. So be it.
But, back to the point. Apparently competition between young women to work as "beer girls" for baseball games is intense. Once they land the gig, they get paid according to how much they sell.
You guessed it. The resulting scene is several dozen Japanese cuties within fifty meters of where you're seated, each competing to seem more coquettish than the next.
They have a ritual where they skip down to the bottom of the aisle, turn around and bow respectfully in the traditional Japanese way before climbing back up the steps in full-on selling mode…big smiles on their faces all the while.
It's no wonder most of the dudes at the game are too drunk by the end to remember what happened after the sixth inning. Genius, I tell you.
Perhaps weirdly, neither DPRK Traffic Girls nor Japanese Beer Girls are always "beauty queens" in the classic sense. It's all in their uniquely delivered feminine charm and intrigue, I figure.
So what do you think? Are you with me on this? If so, which do you like better?
Or do you think I've lost my marbles? If so, poke fun in the comments all you'd like, but no fair secretly hitting up Google Images for more pictures if you do.
And ladies…what's your opinion on all of this? Should 21st-century women cease looking precious and adorable for a bunch of sweaty men, or are you off to Google in your own right searching for Japan Beer Girl and DPRK Traffic Girl costumes to wear in the bedroom?
Be Good,
Scot McKay

P.S. Maybe you're just wondering how the hell we went to freaking North Korea to begin with. I promise that whole story is coming soon. But if you're thinking you'd like to go yourself sometime, you probably can. Hit me up and I'll give you the details.
Comments
Facebook

What People Are Talking About

Hot Off The Press