Filed Under Dating Coaching, Men Attracting Women, Relationship Management, Women Attracting Men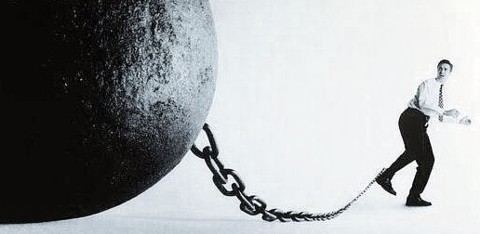 As far as you were concerned, you'd met someone attractive and interesting and were simply "seeing where it all goes".
You wanted time to evaluate the possibility of an exclusive relationship. In your mind, going steady with someone implies testing the waters of a long-term committed partnership. You don't take that lightly, which is wise.
Yet here you are, and there she is.
By way of pure assumption, the two of you are understood to be boyfriend and girlfriend—seeing only each other, hurtling blindly toward a future together.
A huge part of you is left asking how this all happened. You're scratching your head wondering how you never had any say in this matter. Is this even what you want?
If the situation I just described sounds pretty jacked up to you, that's because it is. Yet you wouldn't believe how many e-mails I get from men AND women reporting that it has happened to them, and wondering what to do about it.
Well, the best course of action is always to have "The Talk" with everyone you're dating, asking what they're looking for from their dating life at the moment and telling them where you stand. Ideally this happens on the second or third date, and definitely before intimacy. But better late than never, regardless.
No matter what your long-term strategy is, however, what are the more subtle tactics that your would-be significant other might use to rope you into an exclusive relationship sooner than you'd like?
Here are nine of them to look out for:

1) Meeting The Parents
It's generally understood that meeting Mom and Dad is a big moment in a relationship. For the most part, we almost universally think of parents as longing for the day when their adult children "settle down" and start making grandbabies.
So what purpose does it serve to introduce them to someone we're seeing other than to get their hopes up?
Pile on the reality of how awkward it would be to have the 'rents meet our "booty call buddies" face-to-face, and the picture gets even clearer: If you're meeting her parents, it's as her boyfriend.

2) Having Dinner With People Close To Her
Eating with someone is an inherently intimate experience. It bonds us to them more deeply than before dinner started.
Now, as we mentioned above, meeting her parents is a major indicator that she's pulling you into an exclusive relationship. The same actually holds true if she's going out of her way to introduce you to friends and siblings.
But if you find yourself sharing a meal with her and other members of her tribe, make no mistake about it: you're being welcomed to the family.

3) Being There For A Major Event In Her Life
I've always cautioned against attending weddings with women on first or second dates. It's far too emotional and conjures up too many fairy-tale visions in her head, especially if she genuinely adores you already.
But "major events" in this context can also refer to her college graduation, award banquets, bucket-list experiences or even chemotherapy treatments.
If you're there during those big moments, you're forever embedded as part of the memory. This gives her a sentimental feeling, which she fully anticipates you'll reciprocate. As you well know, we a human beings are reticent to cut loose anything or anyone we feel sentimental about.

4) Calling Every Day At The Same Time
Quite a number of women will push early on for you to call them every day, especially at a set time.
Hey…isn't that what husbands are expected to do when they're away on business trips?
Let's just say that it would be hard for her to assume exclusivity if you're only talking to her a couple of times per week, and not exactly texting her constantly.

5) Many Dates In A Row, Rapid Fire
So you're not calling her every day. Great…but never mind that if you had dinner last night, breakfast this morning and are doing it all over again tonight and tomorrow morning.
I mean, you can't blame her for thinking there's nobody you'd rather see than her. At the very least, she's got to be convince that you have nobody else to go out with other than her…which in her mind is a good start.

6) The Marathon Date
Here it is… If you've just spent the last 24 hours (let alone two or three full days) nonstop with the same woman, you now have a girlfriend.
It's always good advice to "leave her wanting more" on a first date. If it took THAT long and she still wanted more, then it's safe to say you did too.
At that point the two of you likely felt some sort of otherworldly, supernatural connection was taking place. You're already referring to each other as "soulmates".
Naturally, she'd be devastated if you were still seeing other women after such a cataclysmic experience.
7) Monopolizing Weekends/Free Time/Prime Time
When a woman wants you to be her exclusive boyfriend, she'll voice the expectation that you should be spending Friday and Saturday nights with her, or whatever other nights you happen to have off if you're on an unconventional schedule.
This will soon morph into wondering aloud why the two of you aren't spending more of your free time in general together.
These seem like reasonable requests on the surface, but the next thing you know there's simply not enough room in your schedule for another woman.
Boom…you have a girlfriend.

8) Planning The Future
Granted, it's a crystal clear sign when she's talking about weddings, baby names and where she'd like to build a home. You don't need me to tell you that.
But the more subtle plan might be to pencil you in for a concert next month or a weekend festival in January. The next thing you know, you've split the ticket costs with her, reserved a hotel room and you're in. I mean, to break up would be to lose out, if not break a promise.
The longer you're in her life, the more likely you are to go exclusive with her. And getting you to think further into the future early on helps expedite the process.

9) Leveraging Sex As Contingent Upon Exclusivity
Ah yes…we now arrive at ye olde "sex for relationship" mind game.
Does she have every right to wait until you're in a monogamous relationship with her to have sex with you?
Of course she does. That's not the issue.
The problem is that right after she clarifies her position on that, she's doing a little striptease act in your bedroom.
Hey, that's "dirty pool", especially given that she came prepared for class with that Frederick's Of Hollywood lingerie!
Now, let's say you're man enough to resist her temptation. That doesn't mean you're off the hook.
Yes, she may very well walk out the door if you "reject" her. But remember, the plan is to use sex to get you into an exclusive relationship.
As such, if the front door is locked, the back door might be open (and you can take that however you'd like).
Don't be surprised if she calls you soon thereafter offering to have "no strings attached" sex with you.
Confusing? It shouldn't be.
If withholding sex didn't work as planned, maybe giving it to you will. She's thinking that once you discover how good she is in bed (or how much she lied about being on birth control), THAT'S when you're sure to make her your girlfriend.
But obviously, if you can instead keep your wits about you in the face of sexual opportunity, you're WELL on your way to keeping your personal power and dignity intact.
Okay, being a guy who writes mostly to other men, I lapsed into writing in a gender-specific voice. But the truth is that men AND women can run agendas like this with equal opportunity. Well, except maybe the bit involving intentional pregnancy. But you get the point.
Regardless, there are two final takeaways from this discussion.
First, if you're ever on a date with someone and they bring up how ready they are for a steady relationship, marriage, etc. you can take heart in the security that he or she is DEFINITELY into you. That seems like a no-brainer when spelled out as such, but have you ever really thought of it that way?
Second, remember always that your stance on taking it slow will always make you more attractive than if you're immediately agreeable to getting into a relationship fast. Needy desperation is always a turn off, even if the other person—perhaps ironically—is demonstrating desperate neediness in the form of relationship pressure. Go figure.
Be Good,
Scot McKay
P.S. What do you think? Have I left out a major indicator or two here? Have any of the nine examples I described ever happen to you? Do you take issue with any of them, thinking I'm over-reacting? Do people have ill-intent when sort of thing happens, or is it just human nature. I want to know your thoughts…
Comments