Filed Under Announcements, Men Attracting Women, Social Networking, Video Blogs
OK, you know it's a busy day when a complete, 100% overhaul to the main X & Y Communications website takes second billing.
But that's the kind of day this is.
After all, we announced a photo contest in the last newsletter for guys, and we've chosen the winners. What's more, we've already produced a video featuring the results:
Now for the benefit of you all who aren't newsletter subscribers (even though you should be) the contest was very simple: Send me your best pic of yourself with a high quality woman.
So you betcha: Every single pic you see in that video above is 100% real and contributed by readers of the newsletter, Twitter followers, podcast listeners and/or Facebook friends.
No models. No actors. Just real-world results from real guys (and the real women who made it possible).
Now if you read tonight's newsletter, I promised to introduce you to the winners. For sure, everyone who contributed a pic that made it to the video is getting a copy of my newest and yet-to-be-released book Chick Whispering.
But there are two Grand Prize Winners who stood out: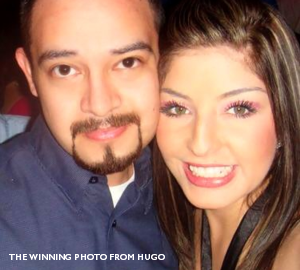 First, there's Hugo. I kid you not, Hugo must have send me 20 or 25 different "entries", and every one of them knocked me out.
As you can see from the "boxing gloves" picture below, the knockouts are frequent occurrences, obviously. In case you're wondering about that pic, by the way, it was a little over-the-top for the video which is why I went with another one of his pics (shown).
But nonetheless, what really got my attention about the "boxing glove" pic was where it was taken. That's not some sleazy club, gentlemen. That's his kitchen.
Add in the simple fact that Hugo sent me a ton more like unto these (including that third pic you see here just for good measure), and he walked off with the victory.
Nice job, Hugo.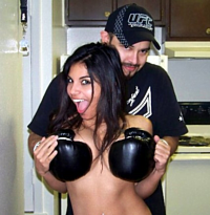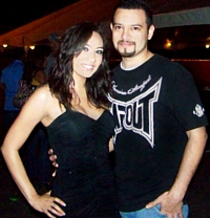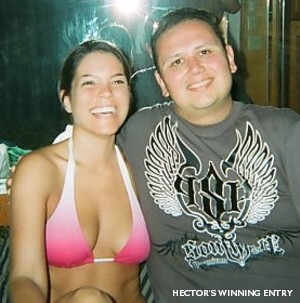 Next, Hector. "Hector The Collector" to be precise. At least that's what he refers to himself as in his Internet marketing videos on Facebook.
Well, that's a first-class hottie that Hector's hangin' with in his winning photo. No doubt.
But now it's time to tell you the real reason why Hector won.
It goes something like this. You see, I have this thing for guys who overcome "limiting beliefs" and/or challenging obstacles that life throws at them.
Hector classifies. According to him, he has lost one hundred and fifty pounds in the last two years or so. He also claims he has "about 50 more to go".
So if Hector can win with women, what's your excuse?
Way to go Hector…you're a winner around here any day of the week.
Great job by everyone who entered. And yes…we'll be running another contest soon.
Be Good,
Scot McKay
Comments
Facebook

What People Are Talking About

Hot Off The Press