Filed Under Uncategorized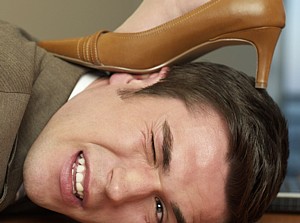 I'm disheartened by the number of truly angry guys there are out there.
Nonplussed by the trend toward female empowerment at the expense of the male gender, more and more men are "going their own way". They're saying they just don't need real, live women anymore.
You need only rifle through the hundreds of comments on this other post to sense the raw force of the vitriol out there. The prevailing question is, "Why endure losing half of my wealth and sanity in divorce court to a woman who only bitched and complained anyway…assuming she didn't flatly reject me before any of that could ever happen?"
With the availability of on-demand video porn in HD and even lifelike rubber dolls nowadays, these guys are wondering why anyone would even bother trifling with a real, live woman. Hell, I'm taken to task (or even burned at the stake) for actually liking women and having the audacity to encourage other men to do the same.
No good deed goes unpunished, apparently.
But yes, I actually still adore women, even though I could be easily led to believe I'm in a rapidly dwindling minority. I honestly believe that most women want to treat a good man right, and my life purpose remains promoting solid, healthy male/female relationship.
Still, the idea of whether women ultimately want to love us or destroy is is NOT the black-and-white issue that some would make it out to be.
I'm neither naïve nor foolish. Some may not know that I've experienced more than my fair share of tough breaks at the hands of poisonous women. So yes, I fully realize that women aren't necessarily all smiling angels of mercy and perpetual blow jobs.
But here's the thing. I present for your consideration what I believe to be an evolution of thinking on this whole topic.

What if it's really, seriously true that women do indeed respond to our lead, as I've been on a soapbox about for over a decade now?
What if the #MGTOW guys really are contributing to their own mess by reactively lashing back at the most vocal "man haters" out there, as opposed to proactively bypassing women we don't even desire anyway?
Could it be true that the women of character out there are simply avoiding the men who they know lack respect and goodwill toward them? That seems like a rhetorical question, at least from my vantage point of living a life where the vast, vast majority of women I encounter are sweet and adorable.
You see, I think both men and women can have black-hearts OR golden-hearts.
But I think that MOST of us, regardless of gender, are more "gray hearted". We are imperfect mortals, alternating between shining flashes of glory and sick, twisted moments of infamy.
Really, the way the pendulum swings depends on a number of x-factors, including strength of emotion, the power of provocation, firmly held beliefs, intangible hunches, the controlled substances we're on or even if we've had lunch yet or have had enough sleep lately.
Which brings this discussion back full-circle to leadership.
Yes, women CAN do you wrong. And you can bet that they WILL on plenty of occasions.
But it's proactive handling of those incidents that separates the men who succeed with women from those who habitually retreat to their man caves and rub one out.
With that in mind, and in the interest of turning a subjective discussion in a more objective direction, I offer for your reading pleasure a full dozen different scenarios. Accompanying each is my first impulse on how best to handle them on the fly as an optimistic man of character who appreciates women and ultimately expects the best from them.
Fair warning: In the name of being succinct these may come off as simplistic. But after all, this is a blog post not an e-book. Nevertheless, I fully understand that my thoughts are likely to trigger a multitude of questions, opinions and follow-up suggestions.
Hey, that's what the comment section below is for, so let 'er rip.
1) Flaking
Women who are popular with men are infamous for canceling dates or even no-showing. What's often going on there is they've double- or triple-booked, ultimately selecting the option they like best when the time comes.
Note here that once men get good with women, they can most certainly run the same scam.
That said, the reason women seem to play these games more often is we as men have basically trained them to believe it's okay. In other words, a legion of needy guys out there will tolerate this bad behavior with smiling faces, begging for her to reschedule.
After that happens several dozen times, the conditioning is complete.
Ironically, however, desirable women will NOT respect any man who capitulates to her flaking.
That's why you want to be the exception. Tell her up front that you're a man of character who shows up when he makes firm plans and you only spend time with women who are the same way. When she agrees, she'll have made a pact with herself at that point, which feels that much slimier to break…even for a narcissist.
If and when she flakes anyway, simply don't put up with it. Put fear of loss aside and tell her there's no second chance, unless she has a REALLY, REALLY good excuse that includes no chance of her giving you any more advance notice. At that point you might be surprised when she scrambles to set the makeup date herself.

2) Blaming
Don't let any woman paint herself as a victim at your expense, especially when you've done nothing to antagonize her or make her life less enjoyable.
Boldly but calmly announce that both of you are adults, which means you're responsible for your respective decision making skills—or lack thereof.
If you did her wrong, apologize accordingly and make it right. But if she's offloading unjustified fault onto you, it's SHE who is in the wrong.

3) Man-Hating
Is this just a convenient dagger to throw based on a fleeting mood swing, or is it really her deep-seated world view?
Chalk the former up to a temporary lapse of reason. Run away from the latter…permanently.

4) Ghosting
This is a low-character move and it indeed sucks. And yes, this complaint is probably registered by as many women against men as vice-versa.
I mean, why can't people just tell you what's up rather than straight-up disappearing off the face of the planet?
In the case of male "ghosting", it's usually because we're too chicken to deal with a woman's emotions should we hurt her feelings by bailing on her.
That can be the case for women also, but there's usually a different twist to it.
Sometimes women think twice about a guy they've shown interest in previously, perhaps because they have an uneasy feeling about him. For that same reason they "disappear" rather than risking a potentially unpleasant confrontation.
When you understand that women may feel the "butterflies" of attraction in the moment they're with you, that emotional high can very well be tempered by logic after you're out of sight and out of mind. This is especially true if she doesn't know you.
The simple (but not necessarily easy) solution, of course, is to intentionally focus on comfort and security when meeting women and seeking to make plans with them.
There's a lot of talk in pickup about getting women's numbers quickly, but on the other hand, you don't want to jump the gun without establishing that you're a solid, normal guy with good intentions (which you are, right?)

5) Flirting With Other Guys
People who respect the basic humanity of others simply do not flirt with other MOTOS (members of the other sex) when with a significant other.
If you're in a relationship with someone who has a habitual problem here, reconsider getting into a long-term relationship with her. That especially holds true if she runs a double-standard whereby you're punished for even looking at another woman.
Nevertheless, sometimes women can flirt with other guys early on as an intentional tactic. It's a sign to you that they're desirable by other men and/or that they're playing "hard to get".
This drives us nuts, of course, because if you complain you look insecure or needy…yet if you remain passive you look like a doormat.
What you can do is matter-of-factly suggest that she doesn't need to try to impress you. You only date women who are desirable to you already.
See how that demonstrates that you're used to the company of high quality women, even as you keep your masculine power and composure?

6) Cheating
First of all, make sure you have your facts straight. Women will often fold when confronted with allegations of cheating.
If you suspect she's cheating but won't admit to it, try changing the subject right after she denies it. Cheaters will be more than happy to talk about something else, whereas people who aren't cheaters will NOT let that water go under the bridge so quickly. They'll need to know more about where the allegations are stemming from.
All of that said, none of it is relevant unless you've clearly defined the nature of your relationship with a woman. If one of you thinks you're exclusive and the other does not, trouble will loom on the horizon.

7) Baiting And Switching
Let's say she made a promise and isn't making good on it. For that matter, consider any incidence of saying one thing and doing another.
While a predictable pattern of such behavior reflects bad character, even well-meaning people occasionally try to fudge on previous commitments, for whatever "innocent" reason.
If you're dealing with a reasonable woman, solving such issues typically involves nothing more than calmly and objectively calling her on the carpet. Clearly state your desire for her to stick to her word.

8) Presuming
Sometimes women will assume you're in the wrong without definable evidence to support it. These "knee jerk" reactions are, again, not a gender-specific phenomenon.
You can carefully address her lack of logic without losing your cool if she's a reasonable woman for the most part.
Do be careful to watch for women with an unnaturally strong jealous streak, however. For instance, if you're accused of sleeping with another woman having been out to the corner store for ten minutes, you might think about walking away from such a relationship.

9) Projecting
Even well-meaning women can fall prey to general warnings about "men behaving badly".
If you ever feel she's projecting that sort of thing onto you, you can stand up for yourself by proclaiming that you're NOT every other guy, especially those who may have hurt her in the past.
Like her, you're a human being. Just like she might not have the character flaws that some men believe to be ubiquitous in women, you don't necessarily fit negative male stereotypes.

10) Manipulating
Manipulation is simply a tactic used by someone to get others to do what they want. Guilt trips ("If you love me, you'll…"), leveraging rewards (I'll have sex with you if you…") and/or demonstrating dependent weakness ("I can't do this and all is hopeless unless you…") are all classic traps.
Importantly, I'd say virtually all of us can be manipulative at times, depending on who or what is at stake. So unless this is a habitual pattern, don't sweat it much. And hey…if it IS a pattern, you just might be enabling it by caving easily and often.
Most pathological manipulator types (e.g. Narcissistic Personality Disorder) actively seek out optimistic, overly-generous "people pleasers", so you chase them off simply by standing up for yourself.
But even in the offhand instances when someone would seek to manipulate you, know the boundaries of your own generosity and practice TGR-R and you'll never be manipulated again.

11) Taking Without Giving
I brought up NPD in the previous bullet point. That's no joke. Extreme selfishness is at an all time high.
When you're with a woman, there should be equal measures of give and take on both sides. In fact, if you're a giving person that leadership should inspire a good woman to give back to you. That's a solid foundation for a great relationship.
But lately I've been talking to more and more guys who are hiring me to coach them on how to make their woman happy (a red flag in and of itself). Nearly always, the simple question of what on earth they're getting in return from her for all their efforts shocks them to the core and leaves them speechless.
Deserve what you want, yet. But then you should freely expect to get it, dammit.

12) Gossiping
Maybe it's that women believe most of us as guys have thick skins.
Or perhaps it's because so many of us go around crowing about "not caring what others think".
But holy mama, is it ever amazing how much private information women freely disclose to their BFFs.
Now, if either you or your girl backstab each other then you've got serious relationship issues.
But even adoring women can go too far, especially after a few drinks on Girl's Night Out.
If anything gets back to you that you would prefer hadn't been shared, again keep your cool and make your displeasure clear. You have solid point. Nobody else deserve to know the details about what you're like in bed, how much money you make, etc.
Okay, so fair enough? Remember, most of what I just outlined is not gender specific, although some of the patterns are definitely more typical of women.
I know this one is going to spawn plenty of discussion, so let's hear what you have to say. Do you agree or disagree? What did I forget to add? Any stories to either support or refute my bullet points?
Be Good,
Scot McKay
P.S. Want to earn the favor of women everywhere? Here's my best program on getting women to treat you right, and making it THEIR idea.
Comments
Facebook

What People Are Talking About

Hot Off The Press