Filed Under Life, Pillar Articles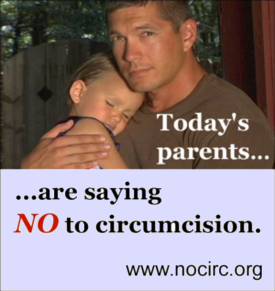 When Emily and I decided to have our son Scot, Jr. at home, we were confronted with the question that all new parents of little boys have to deal with: Should we have the baby circumcised or not?
This led to my researching the idea for the first time in my entire life. Most of us here in the United States have been socialized to somewhat blindly accept that circumcision is a "given" when a newborn boy enters the world.
But as it turns out, one of the first things I discovered in my research was that over the past decade the rate of circumcision of male infants in the U.S. has plummeted from 90% to 50%. This statistic stands even as the vast majority of other nations in the world have all but eliminated the practice as the "norm".
This caught my attention. After all, having been circumcised as a newborn myself I'd never really given it much thought. I, like so many others, had accepted it as "normal".
Well, upon doing due diligence to the topic I was utterly shocked by what I discovered.
Circumcision is decidedly not the "simple, painless procedure that only took a minute" that we often assume it is.
The amount of tissue that is removed from the biologically natural penis is way more than I ever knew. Check it out, guys. The next time you're in the shower take a look at the "railroad tracks" on the ventral side of your unit (where the urethra passes through). That's a scar, dude.
Further, as it turns out the foreskin plays a crucial role in sexual enjoyment for both the man and woman. When it's removed, so is that potential for the ultimate sexual satisfaction we were born with. Here is an objective study that shows this to be true.
Next, because of the actual physiological nature of the foreskin, removing it does not simply involve "clearing away some extra skin". In fact, it is viscerally attached to the shaft and the glans of the penis in a way that creates a mucous membrane underneath.
This means that it has to be peeled backwards away from the head of the penis in order to be removed. If you've got your thinking cap on, you're already shuddering at the thought of this.
Worse, over 50% of all children who endure the procedure do so with minimum (if any) anesthesia, presumably due to concerns over "infant safety". And even kids who are supposedly numbed down ahead of time tend to show clear indications that any anesthesia they received was clearly not sufficient.
And finally…the clincher: There is no established, proven medical reason to perform this procedure.. Most counterclaims cite cleanliness issues, which is ironic since the country with the highest incidence of infant male circumcision (the U.S.) is also perhaps the one most obsessed with taking several showers per day. All kidding aside, effective hygiene of the uncircumcised penis is far from complicated.
Ultimately, you ask most North American parents why they elected to have the procedure performed, the vast majority will tell you it was because "it's just normal to", or "so he can look like his dad". I've even heard "because it's cuter that way".
I've decided to personally do my part in spreading the word about what male infant circumcision truly involves, so that parents everywhere can make an informed decision when their moment comes to make that decision on behalf of their newborn sons.
My new friend Marilyn Milos from NoCirc.org shared a video with me that I've posted for you below. Be advised that even though the effort is made to provide a bit of "comic relief" courtesy of Penn and Teller, parts of this are very difficult to watch–especially when they show the actual procedure being performed.
Nonetheless, I urge you to watch it–especially if you are planning to be a parent anytime in the future:
Make no mistake, I fully get that some circumcisions are performed on religious grounds. That's the way it is.
But in a world where the very worthy cause of abolishing female circumcision takes center stage, at the very least we owe it to our sons to let them make their own decision about cutting their penises or not. I didn't even pierce my daughter's ears when she was a baby, and many other parents don't either…even as they take infant male circumcision for granted. So you can see how important an issue this is for parents to be informed about.
By the way, if you are indeed anticipating the hospital birth of a son in the near future, make sure you bring this topic up with your attending physician. Amazingly, we know of at least one boy who was circumcised without the parents even having been asked. Perhaps this isn't so amazing after all when one considers that circumcision is a billable procedure, of course.
If anything, it's my sincere hope to have caught your attention today. Infant male circumcision really is an area where the vast majority of us really are under-informed.
Be Good,
Scot McKay

Comments