Posted on August 5, 2012
Filed Under Men Attracting Women, Men's Issues, Pillar Articles, Women Attracting Men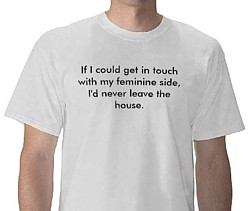 First of all, before we get into this you have to know how impossible it was to find a decent pic to go along with this post. Just about every potential image I initially thought would be clever turned out to be nothing short of creepy.
Maybe there's no coincidence there. Perhaps talking about men as having a "feminine side" is inherently creepy to begin with, it's just that nobody dares say anything because the idea of "getting in touch with one's feminine side" has become such a cliché over the years.
And like most clichés, people tend to use that particular one conveniently when it seems to fit the situation…without really giving much thought to it.
But what in the world does it MEAN for a man to "get in touch with his feminine side"? And is it a good thing to do so? Geez…do we even HAVE a "feminine side"?
I'm reminded of the "Most Interesting Man In the World" commercial that features this gem: "He'd get in touch with his feminine side…if he had one."
The oxymoron there is what makes that hilarious, of course.
I have to tell you, I've been immersed in the art or science (or whatever you want to call it) of how masculinity and femininity work for nearly a decade now, and I STILL can't locate my "feminine side".
Maybe that wouldn't be the case if I had actually spent any time honestly LOOKING for it…except that I haven't yet figured that to be necessary. At all.
Now, before you respond with a comment seeking to lecture me on what exactly I should "get in touch with", know this. Whatever definition of "feminine side" drives your point of view, it's really NOT an established standard.
Seriously, I did my homework before writing this. Due diligence on Google revealed dozens upon dozens of articles and so forth on "how a man can get in touch with his feminine side", etc.
Every single one of them said something completely different.
Interestingly, about as many were written by MEN as by WOMEN. Some were penned by married couples exhorting me to "compromise" the masculine and the feminine to find "balance" or "equality".
Good God Man. I can only imagine how boring THEIR sex life must be. Good luck with that.
Here's where the rubber meets the road.
Masculinity and femininity serve ONE purpose. That's to create sexual polarity.
To put it more viscerally, masculine stuff makes feminine people horny, and vice versa.
That's it. There's nothing more to it. Start applying cultural memes and sterotypes to it all and you'll confuse the issue.
Moreover, start pronouncing value judgments on masculinity OR femininity in the name of "social progress" or whatever and the conversation will become all the more flabbergasting.
One website I happened across actually attempted to equate masculinity with "strength and self-reliance" while femininity was allegedly aligned with "goodness and caring about others".
Here we go again, right? In other words, men (being associated with masculinity) are typically the selfish aggressors who hamfist everything into oblivion, while women…err, I mean "femininity" is about selfless giving and working tirelessly to do the right thing for the good of others.
No matter how thinly veiled the "man bashing" argument is, it's really beside the point.
Even if the syntax is psychologically pleasing to people who write this stuff, they're completely missing the central purpose of masculinity and femininity.
The purpose is to make men horny for women, while making women horny for men.
Sure, that makes masculinity and femininity opposites. You know, "Yin and Yang", etc.
But don't kid yourself. That doesn't mean they're the opposite of each other in every way you can think of.
For example, one doesn't have to be "good" and the other "bad". That's a classic example of logical fallacy at work—no more, no less.
I've said it before in countless coaching calls. There are black-hearted people and others with hearts of gold…of BOTH genders.
And if you get right down to it, the truly masculine traits that drive women wild are all VIRTUOUS aren't they?
Courage. Solid decision making. Protection. Provision. Having a plan in the short term as well as long-term ambition. Dare I say "leadership"?
What drives us as men wild about femininity is the fun, playfulness, comfort, hospitality and joy that it brings to the world.
Yes, all of that can be twisted into vice for the purpose of manifesting darkness. But the point is that the "good vs. bad" aspect of human dynamics is NOT gender specific. And to be honest, whether or not any of that has to do with generating sexual attraction is HIGHLY debatable, at best.
Look, don't ask me WHY femininity makes men want to have sex with women, and don't ask me WHY masculinity makes women want to have sex with men.
I realize there's a decidedly mystical quality to it. All I know is that it WORKS, and that's the whole purpose of the design.
Well, I do know one other thing. No matter where you go in the world, masculinity and femininity are consistent.
Masculine men adore feminine women, and regardless of what a vocal minority may preach the vast majority of women love masculine men.
For what it's worth, I've read in several places that "getting in touch with my feminine side" might mean becoming more sensitive or compassionate. If there are any common themes that can be derived from the whole idea, that's probably one of them.
Please. Compassion is not necessarily a "feminine" emotion. Compassion is empathy for the suffering of others. It often takes a masculine courage, ambition and leadership to stand up to the injustice and wanton human rights violations that stand in the way of restoring peace, health, prosperity and happiness.
Similarly, men are not inherently "insensitive". All men are not boorish Neanderthals without regard for others. This is yet another trap designed to snare the gullible into believing that "women are good and men are bad".
Isn't it amazing how an understanding of masculinity and femininity as the building blocks of sexual attraction as opposed to some iteration of "good versus evil" illuminates everything so much differently?
And yes…that's what I really believe has driven the widespread call for men to "get in touch with their feminine side" all along.
To make the point crystal clear, ask yourself this. When was the last time you heard any encouragement of women to "get in touch with their masculine side"?
Telling them to stand up and demand equal pay for equal work doesn't count. That's not really a matter of sexual polarity at all.
Gentlemen, if you succumb to pressure to "get in touch with your feminine side", all you're doing is throwing water on your natural ability to attract exactly the type of women you're most sexually attracted to (i.e. the feminine ones, of course).
I trust you've already got virtue rooted deep within your soul. Believe in it, whether it's masculine virtue per se or simply human virtue in general.
If you're at a loss as to how to "get in touch with your feminine side" it's most likely because you never had one to begin with.
And believe this, if nothing else: If you DO find a "feminine side" and embrace it, you can indeed fully expect whatever women who encouraged you to that end to clap for joy…right before they tell you that they "just want to be friends". Go figure.
Be Good,
Scot McKay
P.S. What do you think? How you do define "feminine side", and should men "get in touch with it"? Should women get in touch with their "masculine side", assuming they have one?

Comments