Filed Under Announcements, Cool Stuff, Men Attracting Women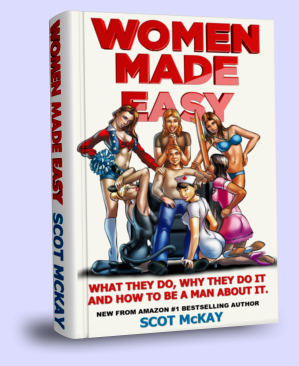 Subject: A Dirty, Messy But Absolutely Thrilling Journey Into The Female Mind
What if… you could rise above the frustrated, confused ranks of men all over the world who are convinced women are impossible to understand?
In other words, what if you finally figured them out? For real…
By that I mean legitimately knowing what thoughts are going through their heads, why they do what they do, and best of all how to handle it all like a man.
Can you imagine how profound an advantage that would be? Women would flat-out adore you, connecting with you in an almost supernatural way–even as you wield more personal power in their presence than ever before.
Well, I've been literally immersed in the art and science of understanding women for over a decade. During that time I've empowered tens of thousands of average men to achieve way better than average results with the opposite sex.
And having been bombarded with questions from men all over the world who are completely nonplussed by what women say and what they do, I've come out with a killer new book on Amazon that answers them ALL. Check it out…it's already a #1 bestseller in two categories within 24 hours of its official release:
http://www.womenmadeeasy.com/getthebook
Although there seems to be a lot of information on "how to understand women" out there, it all tends to be nothing more than a bunch of theory and conjecture.
Well, I'm going to reveal to you exactly how to predict what women will do in certain, specific situations…you know, the ones that tend to confound us as guys to no end.
And better still, I'll give you a real, tangible, explanation of why they do what they do.
But most of all, I've got a step-by-step plan for action on our part. We can't just be left holding the proverbial bag, right?
I know it sounds complicated, but guess what? Women really aren't all that tough to decode. That's why my new book is called Women Made Easy:
http://www.womenmadeeasy.com/getthebook
Now, you can take that title any way you like, and it'll probably apply pretty well to the results you can expect. But to give you a better idea of the outrageous ideas you'll find between the covers…
…Here Are Just Some Of The Enigmatic Questions You'll Get The Answers To:

• How to read what she really thinks about you with stunning accuracy
• What women mean when they tell you to "just be yourself
• How to know exactly when to kiss her
• How to read her subtle sexual signals
• How to get women "in the mood" fast
• Why women "flake out" after they agree to go out with you
• What to do when an argument starts
• What makes women put certain men in the "Just Be Friends Zone"
• How women view the whole idea of "approach anxiety"
• Why women harp on "listening" so much
• How to deal with her sexual past
• Why so many single women go for married guys
• Who should pay for what on dates
• How to flirt in a way that gives you all the power
• How to deal with a woman's friends
• Why women freak out over porn
• How to handle women who are "firecrackers"
• Why you suddenly have more "opportunities" once you get a girlfriend
• How to decode angry messages from women
• Why you're probably not a "jerk", even if she says so
• Why "rejection" isn't always what it seems
• Why some women can get away with living by a "double standard"
• Why most men only seem to attract women they're not attracted to

Plus, I'll share shocking secrets to choosing a high quality woman, knowing which women are "tigers" in bed, and even how to pick a good movie to watch with them (hint: it's not a "chick flick").
It's all jam-packed into this 218-page comprehensive guide that's a fun, entertaining read:
http://www.womenmadeeasy.com/getthebook
Be Good,
Scot McKay
P.S. Get this…I've even included ten bonus audios as a special gift to you. Those feature over six hours of fluff-free content that will give you even greater insight. They're all on a top-secret Web page linked to at the end of the book.

Comments