Posted on September 7, 2012
Filed Under Men Attracting Women, Relationship Management, Uncategorized, Women Attracting Men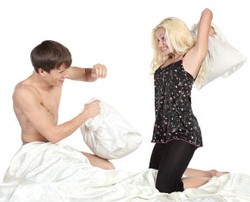 If you're like me, you've seen your fair share of couples talking on TV or whatever about how happily married they are.
Maybe they've been blissfully married 50 years, etc., etc.
Have you ever noticed how often they talk about how LITTLE they've argued over the years?
I mean, my own parents have rarely—if ever—argued with each other, at least in front of us, their offspring. And yes, they truly have been blissfully married for over 50 years.
I've really never met two people who agree on most everything the way they do.
For what it's worth, the foundations of what I've learned about what a great relationship should look like were formed at a very young age. My parents have always been a shining example of that.
But hold on a second.
Despite the evidence I've seen at home and on TV, is how much or how little a couple argues really ALWAYS such an effective barometer of "relationship health" as we've blindly given it credit for being all these years?
This question has been rattling around in my head for at least a decade, perhaps spawned by the excellent blog "Things My Girlfriend And I Have Argued About" (and subsequent eponymous novel, which I highly recommend) by Mil Millington.
I mean, the basic premise there is that Millington and his main squeeze are actually HAPPIER together because they both love to challenge each other so much.
It's as if they'd be miserable and likely break up were they to actually STOP arguing.
So hey…as "nice" as it is that some couples can peacefully coexist without even a hint of a disagreement for literally scores of years, I've got to think that personality type and how much they tend to enjoy a lively debate have to be taken into consideration.
But here's something deeper—and perhaps more mind-blowing—to consider.
My parents (and others like them) notwithstanding, it's altogether unreasonable to expect that a couple will agree on EVERYTHING absolutely ALL the time.
Assuming that simple truth, which I believe is a safe thing to do, then if life proceeds without argument with a measure of consistency that would make a Swiss watch jealous, then I'd offer something may actually be more WRONG than RIGHT.
Here's what I'm talking about here.
I think I'd need a whole hand to count the number of times the following has happened.
Back when I was in the corporate world, I'll have been sitting in the audience at some company-wide convention as a speaker is announced who has worked there for, say, 30 years.
The guy presenting the speaker (who is almost invariably his boss) will say something to the effect of, "I've never heard him complain once. What a great example he is for everyone to follow! Please welcome him to the podium."
Similarly, I once attended a retirement party for a guy who'd been a "company man" for something like 40 years.
He too had "never complained", working for some four decades without argument…about anything. Of course, bosses heaped high praise upon him for that.
Everyone marveled at his commitment to the company, then they gave him a watch or something. Then he stopped coming to work. And then they replaced him with someone much younger–who they probably had to pay more and give better bennies to.
Maybe it's the "entrepreneurial spirit" in me, but you know what? If there's a problem, I'm going to bring it up.
Sure, I'm going to accompany my grievance with a suggested solution. But yes…if there's a complaint in need of being registered, I'm not going to be shy about it.
You see, I think that if you "don't complain" you'll get paid exactly the salary the company wants to pay you, and you'll rise through the corporate ranks at exactly the rate your passive attitude propels someone else towards putting you first (which may be never).
Let's just spell it out: The "non complainers" MAY be the same ones who stay at the company for so many years not necessarily because they're so valued by their employers, but rather because they fail to ask hard questions along the way that may have led them on a different course.
That's not to say, of course, that their employers are anything less than gratified by the whole scenario.
When I went to work for a Fortune 50 company at what I imagined at the time to be my dream job, I had the luxury of already having been gainfully employed throughout the recruitment process.
This meant that when I didn't like their initial offer—or their second—I pushed back. Likewise, whenever something came up that raised a red flag about the prospect of working there, I asked the "hard questions".
And sure enough, they hired my opinion-laden self anyway.
Guess what? Once I took the job and moved to San Antonio, I was one of the most outspoken critics of "Dilbert, Inc." type leadership in my entire regional office of over 200 people.
My boss called me the "highest-maintenance employee he'd ever managed". Let's just say nobody ever, ever introduced me as the "guy who never complained".
And yet, because of "corporate policy" it wasn't until I left that I found out I had been the highest paid guy in my sizable workgroup by a factor of at least 20%…despite being the youngest and having the least seniority.
Some other, more "quiet" guys getting paid far less had been there for 30 years—all the while looking forward to their annual inflation-adjusted pay increase.
So what does all this have to do with male/female relationships?
It's very simple, really. I believe there's a parallel to be drawn between how things work in the business world and how they work in a long-term relationship.
I strongly suspect that, like employees who work "quietly" until retirement, there are lots and lots of passive partners in relationships who get steamrolled on a regular basis.
Why? Because in their mindset it beats "arguing".
But show me someone who is mortally afraid of confrontation, and I'll show you the man or woman of a manipulative control freak's dreams.
Can you see how "never arguing" may not be a Pollyannaish vision of relational perfection, after all?
Now again—to be sure—let me underscore that I am NOT saying something weird like "all happy couples should argue more".
Nevertheless, here's the truth: Emily and I argue. We do so probably once a week, actually.
Yeppers…if something isn't right, we freely voice a "complaint" to one another.
And sometimes there's a "counterpoint" to be made in response.
I wouldn't say we have a Millingtonian attraction to arguing, per se. We don't particularly like it.
But what Emily and I DO like is being transparently honest with each other and having one another's best interests at heart. And see, that isn't always something that can go forward on "autopilot" without some redirection here and there.
Passionate people can and will make their case with a bit more enthusiasm than others, no doubt. So the very definition of "arguing" may itself be open to debate, if you will. By definition, stating one's case in and of itself counts as an "argument". Somewhere between there and the Hatfields vs. McCoys is plenty of middle ground.
But the reason I know Emily and I have a healthy relationship—despite being "arguers"—is that we really, truly DO have each other's best interests at heart.
We don't lose control over our emotions.
We're both reasonable people (which is crucial) and therefore we always find a workable solution to whatever's on the table.
And most of all, we don't EVER insult or belittle each other. We adore each other even in the midst of disagreement.
Those factors, in our minds at least, differentiate "arguing" from all-out "fighting". "Fighting" indicates a battle for superiority, and I can't see how that would be healthy at all vis-a-vis the concept of "having each other's best interests at heart".
Emily and I may never be celebrated as "the couple who never, ever argued", but we're often referred to by our friends and acquaintances as "the happiest couple they know".
That's good enough for us. No argument there.
Be Good,
Scot McKay
P.S. So what's your opinion on this? Make it known (even if it's a complaint and/or a full on argument) by commenting below. And what's your view on the value of "make up sex"…I didn't even go there at all.

Comments